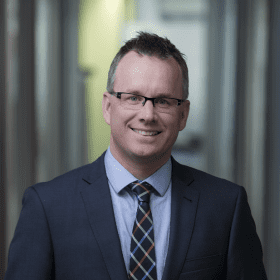 Sam McGrath leads the Employment and Industrial Relations team at Cowell Clarke.
Sam's primary focus is in the area of employment and industrial relations law, where he provides advice and representation to corporate and business employers. With broad-based experience in litigation, Sam brings a unique background and astute insight to his specialisation in employment law.
In 2017 Sam was appointed by the Independent Commissioner Against Corruption (ICAC) as principal solicitor assisting the Commissioner in a maladministration inquiry into the Oakden Older Persons Mental Health Service. 
Sam has practised in many areas of commercial and general litigation from personal and corporate insolvency to shareholder and industrial disputes. He has also represented both applicants and objectors in Liquor Licensing matters and has advised associations on constitutional issues. 
Sam was recognised for his expertise in Occupational Health and Safety Law in Best Lawyers in Australia in 2020.
Qualifications
Bachelor of Laws 
Bachelor of Arts
Practice Groups
Liquor Licensing

Employment & Industrial Relations

Dispute Resolution

Defence