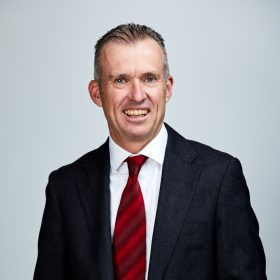 Shaun Creighton is a partner director at Moulis Legal. He leads Moulis Legal's intellectual property, commercial and government procurement practice.
Consistent with the commercial+international philosophy of the firm, Shaun has practiced for over a decade in assisting clients identify, protect and commercialise their valuable intellectual property rights in Australia and internationally.
He has acted for some of Australia's best known brands across a number of industries including information communications and technology, biotechnology, broadcasting, health, sport and wine. His brand protection and commercialisation services have encompassed securing Australian and international trade mark rights (registration and defence), certification of trade marks and shape trade marks, and the drafting and negotiation of commercial and IP rights agreements. These include international distribution agreements, trade mark licences, content supply agreements, product supply agreements, sponsorship agreements, joint venture agreements and franchise agreements.
Shaun represents ICT companies in their B2B and B2C transactions. This includes end user licence agreements, teaming agreements such as re-seller agreements and strategic alliance arrangements, and consumer and privacy law compliance. For start-up ventures, he is experienced in drafting founder agreements, securing IP rights in one or more jurisdictions, drafting terms of supply, and advising on regulatory compliance.
Shaun has extensive government procurement experience and expertise, especially in the ICT area, having been Senior Legal Counsel at Airservices Australia for more than eight years. In that capacity Shaun has handled contracts for the supply, installation and maintenance of complex radar systems, telecommunications systems, software (including software as a service) and hardware. He has a strong working knowledge of the Commonwealth Procurement Rules which is critical for representing the public and private sectors alike in major government-related transactions.
Shaun also adds to the sports law, governance and administration credentials of Moulis Legal, and counts many national sporting organisations, professional sporting teams, athletes and organisers of sporting events amongst his list of valued clients. He has been in-house legal counsel with the Australian Sports Commission, Melbourne 2006 Commonwealth Games Corporation and the Melbourne Stopover of the Volvo Ocean Race. Shaun is a former Director of Athletics Australia, the Canberra International Film Festival and the ACT Olympic Council. He was the President of the ACT Olympians Club from 2008 to 2012, has been a National Track & Field Selector since 2012, and is currently the Chairman of the Physical Activity Foundation.
Prior to studying law, Shaun was a professional track and field athlete. He competed for Australia in the 1996 and 2000 Olympic Games and still holds the Australian 3,000m Steeplechase record. He graduated with a Bachelor of Laws (2002), and has a Master of Laws in Intellectual Property (2008). In addition to being a specialist intellectual property lawyer, Shaun is a registered Trade Marks Attorney.
Outside of work, Shaun can be found trying to combine his interests in sport, events and wine, but not necessarily all at the same time.