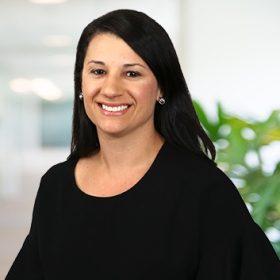 Tess has been an integral part of our Personal Injury team since starting at Marsdens in 2002. She has gained a high level of experience in all areas of Personal Injury, including Motor Vehicle Accident Claims, Total and Permanent Disablement (TPD) Superannuation Claims and Dust Diseases Claims. Tess manages our Workers Compensation practice and is an ILARS approved lawyer, enabling our clients to access free legal advice and representation in relation to workplace injuries.
Tess was appointed to Senior Associate in 2015. In 2008 she achieved Specialist Accreditation in Personal Injury. Between 2007 and 2009, Tess was the president of the Macarthur Law Society.
Tess prides herself on her success when it comes to advocating on behalf of her clients. Whether she is negotiating a settlement or preparing for litigation, her many years of experience and the skills she has developed enable her to take an aggressive approach, while maintaining a high level of professionalism. Tess has been highly successful in achieving outcomes which in most cases, have exceeded her clients' expectations.
Over many years of practice in Compensation matters, Tess has developed strong written and oral communication skills in advocating the best interests of her clients. Whether this is through written submissions, appearances before arbitrators in the various Tribunals and Courts, or outlining a case for the purpose of achieving a successful settlement outcome, Tess's thorough understanding of the law and its practical effects allow her to represent her clients' needs at a high level every time.
Tess has 17 years of experience in assisting clients from all walks of life, through what is often one of the most traumatic and stressful times of their life. Tess is highly skilled in interacting with clients in a compassionate and understanding way. In this area of the law, these qualities are important in a lawyer as the effects of any accident, illness or injury can be significant when it comes to the family, life and livelihood of the person involved. Tess always strives to advise and represent her clients in such a way as to make the process less stressful and easier to understand.
Outside of the office, Tess is heavily involved in community and charity events, and maintains a high profile in the local business community, regularly attending networking and charity events within the community.