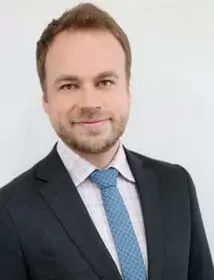 As a Senior Associate at Galbally Parker Lawyers, Thomas Bell practices in criminal and disciplinary law across a wide range of practice areas, in both summary and indictable crime. Thomas has experience in every practice area, from summary dishonesty offences through to Supreme Court Trials and Court of Appeal matters. Thomas is both academic and practical, with excellent advocacy skills and the compassion required to deal with client's in distress. 
Thomas Bell joined Galbally Parker as a paralegal in 2016 while completing his law studies at Monash University. Thomas graduated with a Bachelor of Music with Honours from The University of Melbourne in 2013 and a Master of Laws (Juris Doctor) from Monash University in 2017. He has also attained a Graduate Diploma in Legal Practice from The College of Law. During his law studies, Thomas excelled in the disciplines of advocacy and evidence.
When he was completing his studies, he assisted lawyers across a broad range of summary and indictable matters including homicide, drugs and sexual offences trials in the County Court of Victoria and the New South Wales Supreme Court. Prior to being admitted to practice in April 2017, Thomas instructed Counsel in both metropolitan and rural Magistrates' Courts for bail and administrative hearings on behalf of clients.
At the conclusion of his degree, Thomas was offered a position as a solicitor within the firm straight from his admission in recognition of his considerable skill and knowledge. He has now progressed to the position of Senior Associate. Thomas has developed into an accomplished advocate and is particularly passionate about preserving his clients rights when they are faced with periods of incarceration. He has advocated for those who experience particular vulnerability within the system, such as those with cognitive impairments, disabilities and who have suffered from mental health conditions. Thomas' precision and attention to detail are two qualities that make him an excellent lawyer and an essential member of our team.
More recently, Thomas was an essential part of the team who freed Zlate Cvetanovski on appeal bail (an exceptional and rare event) in May 2020 as a result of the misconduct of Ms. Gobbo and corrupt conduct of the Victoria Police.
Thomas is a member of the Law Institute of Victoria. In addition to legal practice, Thomas is a concert pianist, regularly performs as a chorister with chamber choirs in Melbourne and is the current Honorary Secretary of the Australian Bach Society. He is also an author of a family biography and has many interests that help him maintain balance. Most recently, he participated in Run Melbourne as part of the criminal lawyers group, raising money for cancer research. 
In 2021, Thomas was voted a Rising Star in Criminal Law within Victoria by the Doyle's Guide. He was promoted to Senior Associate in 2022.